3 Powerful Websites You Didn't Know Existed- Must-Read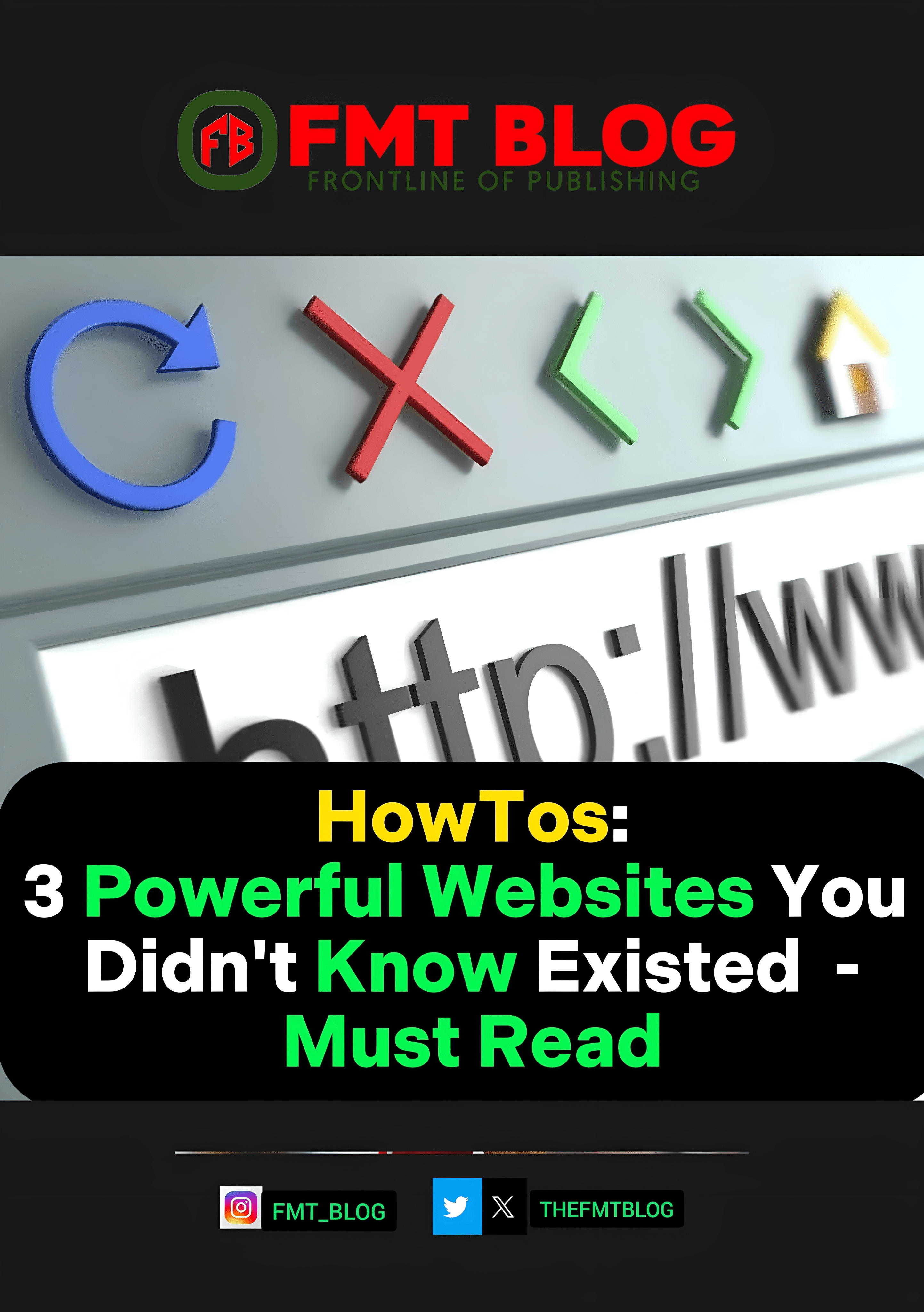 3 Powerful Websites You Didn't Know Existed- Must-Read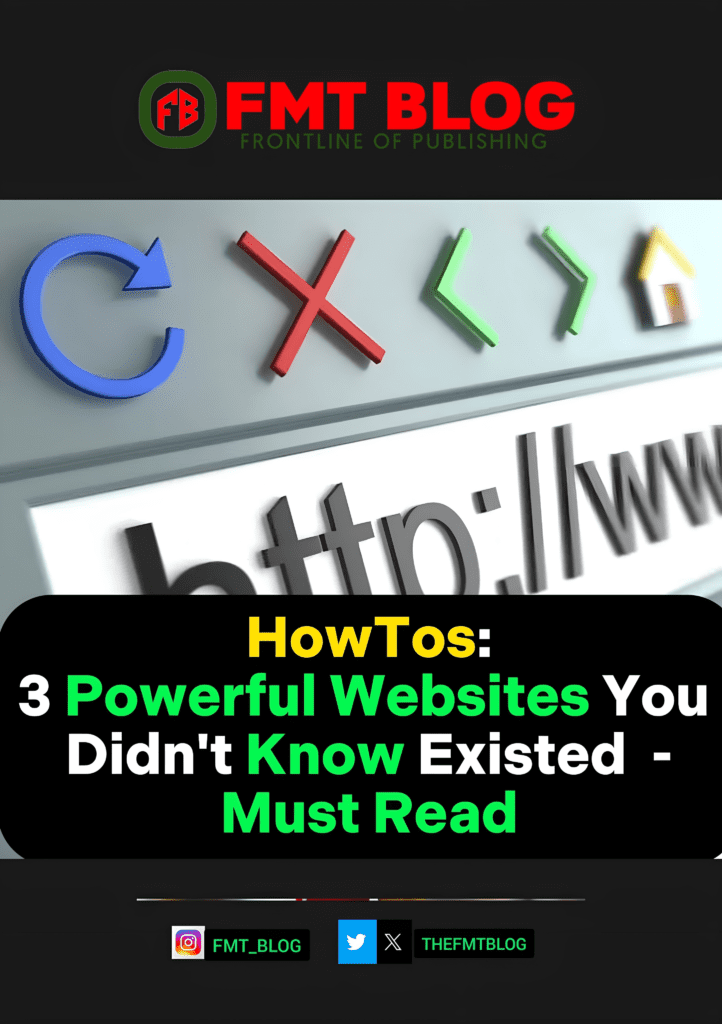 Introduction:
Numerous websites are just waiting to be found in the wide online environment. While well-known websites like Google, Facebook, and Amazon dominate our online interactions, some undiscovered treasures provide special and worthwhile services. 
We'll introduce 3 powerful websites you didn't exist in this article that you need to be made aware of. This is a must-read article for anyone wishing to broaden their knowledge of the internet because of the depth and utility these hidden gems may bring to your online experience.
Check out the 3 powerful websites you didn't know existed below;
Iconscout: Your One-Stop Icon Shop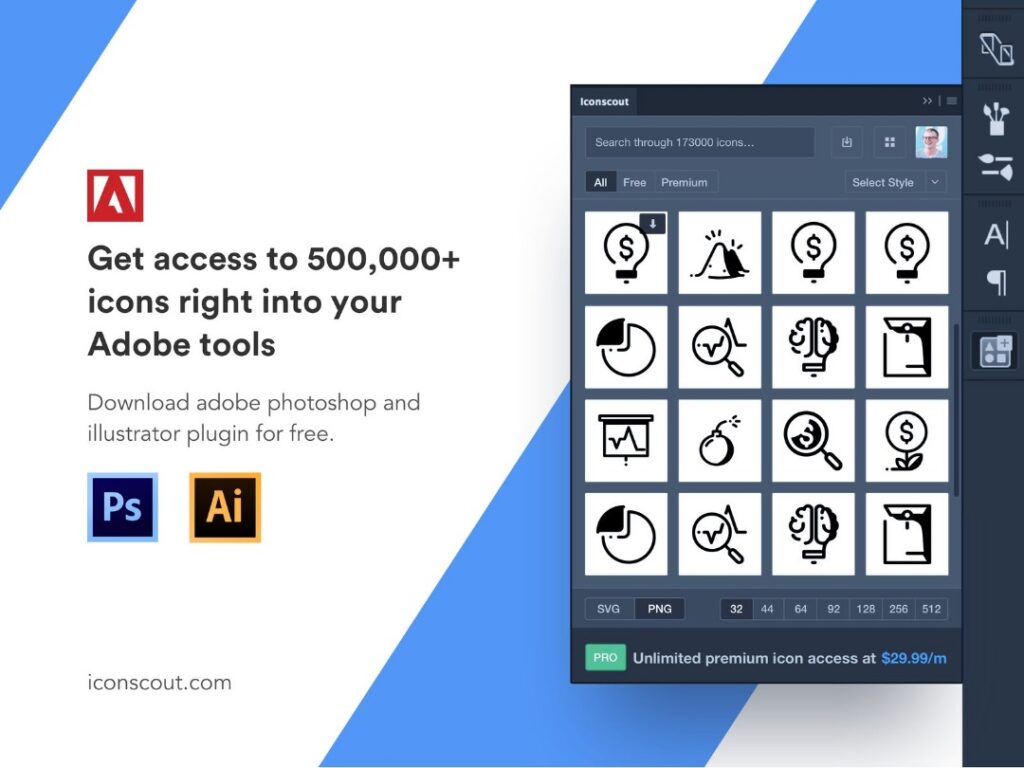 1. Iconscout is a flexible web tool that may be used to find icons, graphics, and other design elements. Iconscout has you covered if you're a web developer, graphic designer, or anyone else who needs high-quality visual components.
Key characteristics of Iconscout
Iconscout has a large icon library with a variety of icons in it, covering a wide range of areas. You can choose from a wide range of icons, whether you need them for a website, app, or presentation.
Options for Customization: Iconscout enables you to modify icons to meet your unique requirements. To match the visual style of your project, you can alter the colors, sizes, and styles.
Illustrations and images: In addition to icons, Iconscout also provides a vast library of vectors, illustrations, and graphics that can improve your artistic endeavors.
READ ALSO- Netflix Secret Codes 2023: Full Lists For All Hidden Movies
For people who want to employ fonts as icons while developing websites, icon fonts are available. They are simple to implement and adapt well to various screen sizes.
Finding the ideal icons or graphics for your projects is simple, thanks to Iconscout's user-friendly search and filtering features.
Iconscout's API can be easily included in apps by developers, facilitating easy access to and use of icons and other design resources.
Why Iconscout, you ask?
Quality Assurance: Iconscout guarantees the greatest possible quality for all icons and design elements, delivering a polished appearance for your projects.
Regular Updates: To keep your design resources current and fresh, the platform is often updated with fresh icons and images.
Iconscout's varied pricing options make it affordable for freelancers, small businesses, and huge corporations alike.
Iconscout offers a variety of licensing options, including personal, business, and enterprise licenses, to accommodate different demands.
The second website we shall be looking at in this article is called Ninite;
2. Ninite is an easy-to-use web service that makes installing and upgrading software on your computer faster and easier.

It's a practical tool for both common users and IT specialists who want to speed up the software management procedure.
Ninite's principal attributes are:
Installation with a single click: You can choose the software programs you want to install with Ninite from a long list. One-click launches the installation process for all selected programs after you've made your selections.
There Is No Bloatware: Ninite makes sure that you receive clean installations free of any extra toolbars, adware, or pointless add-ons that are frequently downloaded along with software.
Automatic Updates Features: Ninite takes care of updating your software. Without your assistance, it scans for updates to the installed programs and automatically applies them.
Personalisation: Although Ninite provides a range of well-known software programs, you can also personalize your choices. You have a variety of options to pick from, including media players, chat apps, and web browsers.
Offline Installers: If you need to install software on several PCs without an internet connection, Ninite offers offline installers that are quite helpful.
Business Solutions: Ninite has features designed specifically for businesses, such as a pro edition that enables IT specialists to manage software deployments across an organization effectively.
Why Opt for Ninite?
Time-Saving: By removing the need to visit separate software websites for downloads and updates, Ninite's one-click installation and automated updates help you save time.
Security: By offering clean installations, Ninite lowers the chance of installing potentially unwanted programs (PUPs) or malware.
Efficiency: Ninite Pro enables IT professionals to efficiently manage software across a network of machines, preserving security and consistency.
Free and Paid Versions: Users can select the degree of service that best meets their needs from Ninite's free and premium versions.
The last website we'll be talking about is called Mindluster!
What Is Soft Skill Learning with Mindluster?
3. Mindluster is an online Learning platform that is devoted to assisting people in developing their soft skills.

Soft skills include many different human qualities and aptitudes, such as emotional intelligence, teamwork, communication, and leadership. Both professional and personal contexts require these abilities.
Important Characteristics of Mindluster Soft Skill Learning:
Diverse course offerings: The courses and modules that Mindluster offers span a range of topics related to the development of soft skills. These programmes are made to accommodate students with a range of ability levels, from novices to experts.
Interactive Learning: The platform probably uses fun and interesting interactive learning techniques. The notions of soft skills could be reinforced through movies, tests, case studies, and practical exercises.
Personalised Learning Paths: Mindluster might provide personalised learning paths that let users concentrate on particular soft skills that go along with their objectives and potential areas for growth.
Certifications: Users who complete courses or modules may be awarded certifications or badges to display their improved soft skills on their professional profiles or resumes.
Expert Instructors: Courses on Mindluster are probably given by seasoned educators or subject-matter specialists in soft skills growth.
Progress Monitoring: Users can monitor their advancement and gauge improvement over time, which keeps them inspired and devoted to their soft skill development path.
Advantages of Learning Soft Skills with Mindluster:
Career Development: By enabling you to become a more well-rounded and productive professional, developing soft skills can improve your job prospects. Employers frequently place equal weight on technical and soft abilities.
Effective Communication: Stronger interpersonal ties with subordinates, managers, and clients can result in more fruitful collaborations and initiatives.
Dispute Resolution: Soft skills like negotiation and dispute resolution can assist you in navigating challenging circumstances and locating win-win solutions.
Leadership Potential: As great leaders frequently have good soft skills, your leadership and teamwork abilities may position you for leadership responsibilities within your organisation.
Personal Development: Developing soft skills can improve your personal life in addition to your professional one, resulting in better connections and more self-assurance.
Platforms like Mindluster Soft Skill Learning can offer helpful tools and direction to help you reach your goals if you're interested in growing your soft skills. It's important to keep in mind that developing your soft skills is a continuous process that can have a big impact on both your personal and professional life.
Drop comment below 👇
READ ALSO 👇