Viral Gists
Nigerian Doctor Obadare Bags Forbes Best of Africa Outstanding Award 2023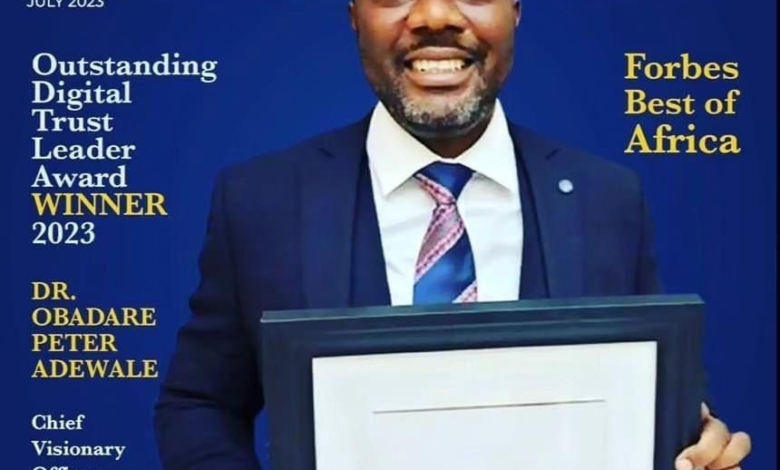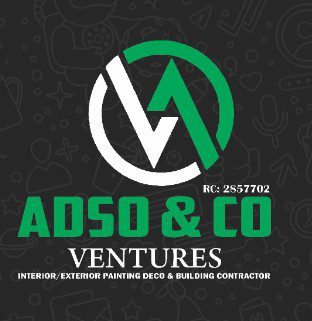 Nigerian Doctor Obadare Bags Forbes Best of Africa Outstanding Digital Trust Leader 2023
Doctor Obadare Peter Adewale, Co-founder/Chief Visionary Officer (CVO) of Digital Encode Limited, is a Nigerian who has been named Forbes Best of Africa Outstanding Digital Trust Leader of the Year 2023.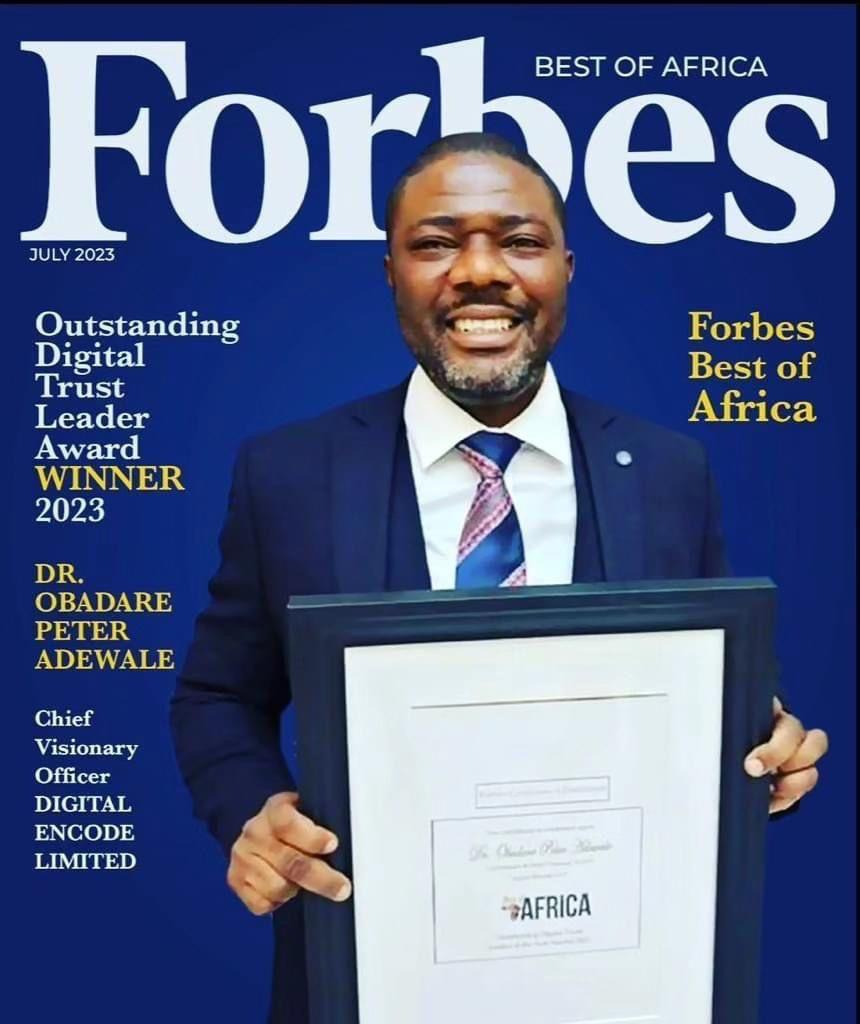 The prize is just another endorsement for Dr. Obadare, a well-known subject-matter expert with a long track record of achievement in Africa.
"Through its awards, Forbes acknowledges and celebrates Dr. Obadare as among exemplary leaders, top businessmen, political leaders, and dynamic personalities with records for far-reaching impacts and positive contributions to the development of their respective countries, sectors, and industries," writes Mark Furlong, President, Custom Solutions Media, for Forbes Media.
READ ALSO- No Fuel, You Want Go Fight War. How Do You Intend To Reach Battlefield?"- Burna Boy Lashed Nigerian Govt (VIDEO)
"Forbes wishes to commend your work as the co-founder and chief visionary officer (CVO), of Digital Encode Ltd, a reputable company with successes around the globe", Furlong wrote.
Dr. Obadare received the coveted honour on July 18, 2023, at the Waldorf Hilton Hotel in London, United Kingdom, at the FIN/Forbes Best of Africa Awards Reception.
Hundreds of business executives, policymakers, entrepreneurs, legislators, opinion leaders, journalists, Forbes partners, and foreign investors attended the occasion.
Dr. Obadare said that obtaining the Forbes finest of Africa Outstanding Digital Trust Leader of the Year 2023 award was one of the finest moments of his professional career.
"I am truly honoured and exhilarated to receive this award," he says. It is without a doubt one of the finest experiences.
"It is an honour that Forbes has nominated me for this award." My deepest gratitude goes to my family, whose support has allowed me to go all the way."
"The most heartfelt thanks go to the entire Digital Encode team for their years of collaboration."
"I am overjoyed to have garnered such acclaim. This honour, I think, will strengthen Digital Encode's aim of becoming the next Cybersecurity Unicorn."
Dr. Obadare Peter Adewale is a seasoned Multi-Award Cybersecurity & GRC expert with over 56 (Fifty-Six) international professional certifications to his name, a Master of Science in Cybersecurity from Liverpool University in the United Kingdom, and an Honorary Doctorate Degree in Cybersecurity from Trinity International University of Ambassadors in Atlanta, Georgia.
He is widely regarded as the most "credentialed" PAN-African Digital Trust Leader, CyberSecurity Strategist, GRC Thought Leader, and Global Technopreneur. A Fellow of the British Computer Society (FBCS), a Fellow of the Institute of Management Consultants (FIMC), a Fellow of the Institute of Information Management (FIIM), a Fellow of Enterprise Security Risk Management (FESRM), a Fellow of the Institute of Brand Management (FIBM), a Chartered Information Technology Professional (CITP -UK), the First PECB Certified Data Protection Officer (CDPO) in Nigeria, the First PECB Lead Pentest Professional in Nigeria, and the First Global PECB
Peter is a well-known subject matter specialist with a long track record of achievement in Africa. Data Privacy, Data Protection, CyberSecurity, Information Security, Vulnerability Management, Penetration Testing, Computer Forensics, Business Continuity, I T Governance, Risk Management, and Compliance are among his abilities and experience.
He is an Open-Source Security Testing Methodology Manual (OSSTMM) Platinum Team Member as well as a Senior Member of the Risk Managers Association of Nigeria (RIMAN).
He is a FATE Foundation and US Department of State Exchange programme alumni.
Among other distinctions, he is a notable alumni of executive education at Harvard Business School, Harvard School of Government, MIT Sloan School of Management, MIT Professional Education, and Oxford University – Said Business School.