Injection Used To Treat Late Nigerian Singer MohBad Has Claims Many Lives In The Past, New Findings Emerges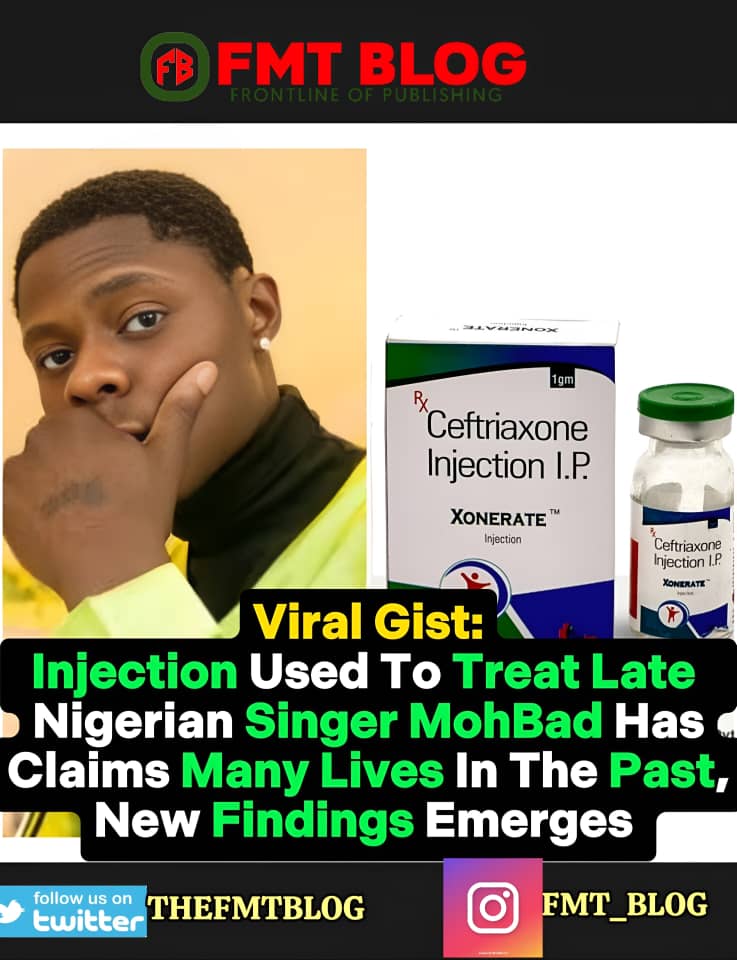 According to recent research, the injection used to treat late Nigerian singer MohBad has caused serious and perhaps fatal adverse effects as well as deaths in a number of Nations over the previous two years.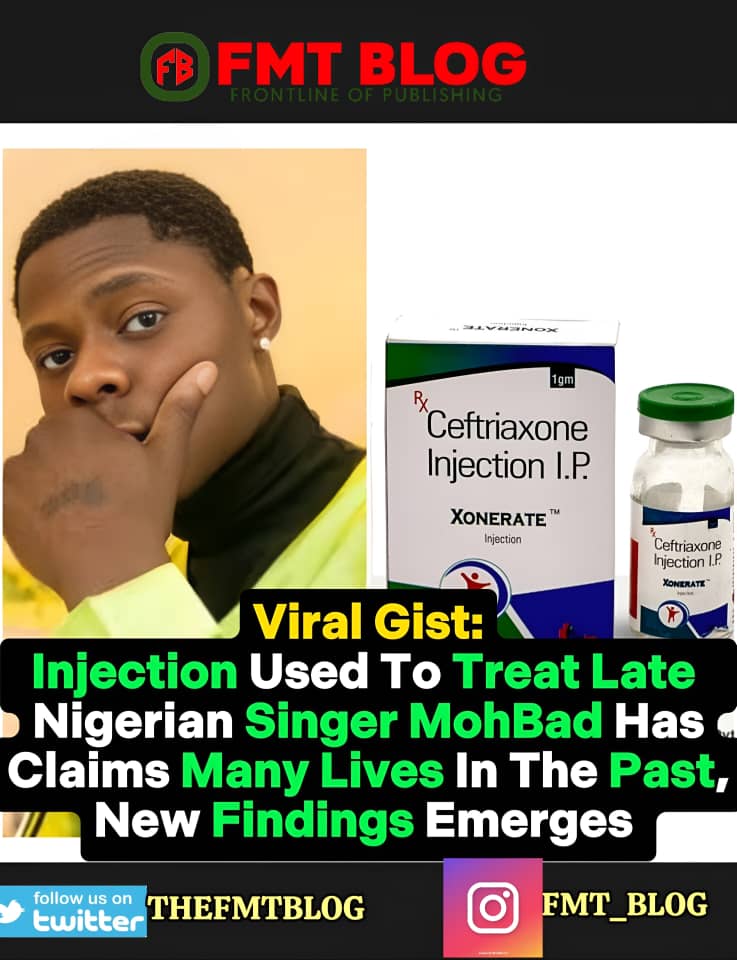 Idowu Owohunwa, the commissioner of police for Lagos, stated in a preliminary report of an ongoing investigation into the death of Ilerioluwa Oladimeji Aloba, aka MohBad, that one of the late musician's friends, Ayobami Sadiq (Spending), had called his nurse, Ms. Feyisayo Ogedengbe, who treated Mohbad with 1 Pack of Ceftriaxone injection; 1
The police chief stated: "Ms. Feyisayo administered the Tetanus Toxoid on the arm of MohBad and gave both the Paracetamol and Ceftriaxone injections intravenously. Ms. Feyisayo confirmed that MohBad started vomiting shortly after receiving the Ceftriaxone injection. He also developed goosebumps all over his body and face.
The use of "Ceftriaxone 1g powder for solution for injection/infusion," according to a 7-page publication by the Registration & Regulatory Affairs (R & R) Directorate of the National Agency for Food and Drug Administration and Control (NAFDAC), asserts that "Consideration should be given to official guidelines on the appropriate use of antibacterial agents."
READ ALSO- Shocking As Nigerian Man Shares Chat From His Girlfriend Who Wants To Travel To Abuja To Meet And Chill With Another Man
According to a report by The Nation, on January 6, 2012, the Food and Drug Administration (FDA) of the United States followed the lead of Canadian health authorities by outlawing the use of specific Ceftriaxone variants in the treatment of animals and chickens. The FDA made this decision due to the "declining prevalence of cephalosporin-resistant Salmonella Heidelberg isolates in chicken meat and humans."
The National Center for Biotechnology Information, which promotes research by publishing papers and drug reviews online, has long-standing, serious concerns that are mostly brought on by the ease with which Ceftriaxone can be misused.
Ceftriaxone has a significant tendency for misuse due to its high rate of utilization, according to one review titled "Evaluation of the Clinical Use of Ceftriaxone among In-Patients in Selected Health Facilities in Uganda," published on June 25, 2021.
"In this study, we aimed at assessing the appropriateness of the clinical utilization of ceftriaxone in nine health facilities in Uganda; using the World Health Organization (WHO) Drug Use Evaluation indicators, we reviewed a systematic sample of 885 patients' treatment records selected over a three (3)-month period.


"Ceftriaxone, like most cephalosporins, has a high prevalence of inappropriate prescriptions: Ceftriaxone has a high propensity for misuse because it is utilized in high quantities clinically and is prescribed uncontrolled in many countries including Uganda.


"Inappropriate use of antibiotics such as ceftriaxone accelerates the emergence of antimicrobial resistance, increases costs of treatment, affects productivity, and exposes patients to unnecessary side effects, and can also result in death," it stated.
Meanwhile, according to another review, Ceftriaxone can bind with calcium ions to produce a poorly soluble ceftriaxone-calcium salt that forms precipitates in the urinary tract, also known as urolithiasis [2]. Although its incidence is relatively rare, ceftriaxone-induced urolithiasis could lead to severe complications, such as acute kidney injury (AKI).
Another assessment published as recently as August 2012, titled "Adverse Events Induced by Ceftriaxone: A 10-year Review of Reported Cases to Iranian Pharmacovigilance Centre," indicated that research carried out in Iran indicated the necessity for extreme caution and professional guidance when using the medication.
"Ceftriaxone was responsible for the highest number of deaths in our database (49 cases). Of 20,877 reports, 1205 (5·8%) were related to ceftriaxone; 357 reports (30%) are categorized as serious including cardiac arrest, anaphylactic and anaphylactoid reactions.

"The high number of serious cases makes it necessary to develop preventive measures for reducing those adverse events. Unlabelled use of the drug (2·9%) is identified as one of the risk factors for adverse events.

"Evaluation of the 1030 intravenous injections of the drug shows that rapid intravenous injection of ceftriaxone is another risk factor. One hundred and sixteen patients (9·6%) had a previous history of allergic reaction to ceftriaxone, penicillin or both.

"We recommend an alternative antibiotic, if possible, in the case of a positive history of allergic reaction to cephalosporins, penicillins and/or other beta-lactam antibiotics.


Under a section titled 'What is new and conclusion', it was recommended that "Severe and life-threatening adverse reactions induced by ceftriaxone are of great concern. Rapid intravenous injection, unlabelled use and previous patient history of allergic reactions to cephalosporins or penicillins are risk factors that should be guarded against."
Drop comment below 👇
READ ALSO 👇