UNTH Doctor Who Was Abducted Escapes After Kidnappers Slept-Off From Weed Overdose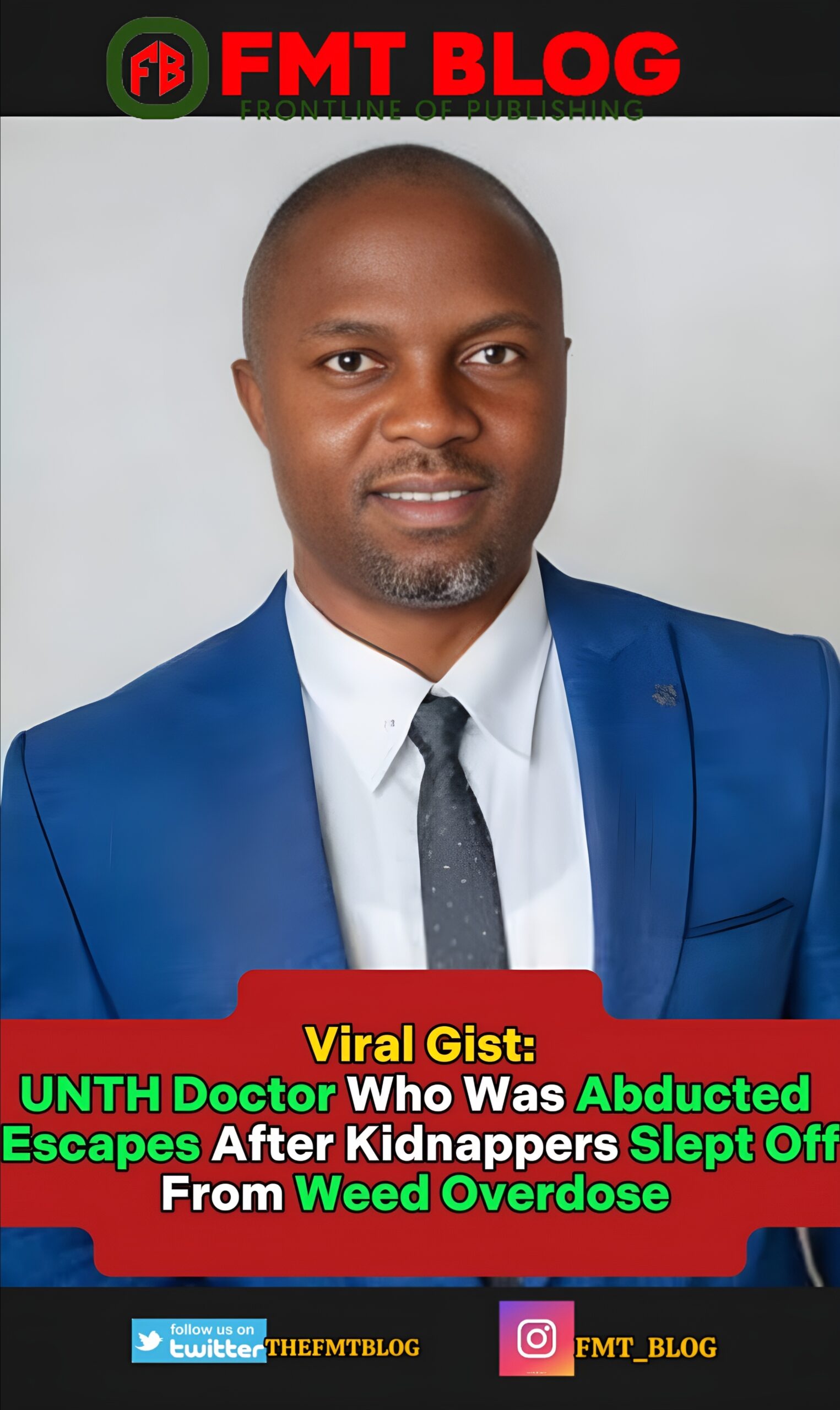 UNTH Doctor Who Was Abducted Escapes After Kidnappers Slept-Off From Weed Overdose
A resident doctor named Dr. Orockarrah Orock, who works at the University of Nigeria Teaching Hospital (UNTH) in Ituku-Ozalla, Enugu State, has managed to escape from his abductors.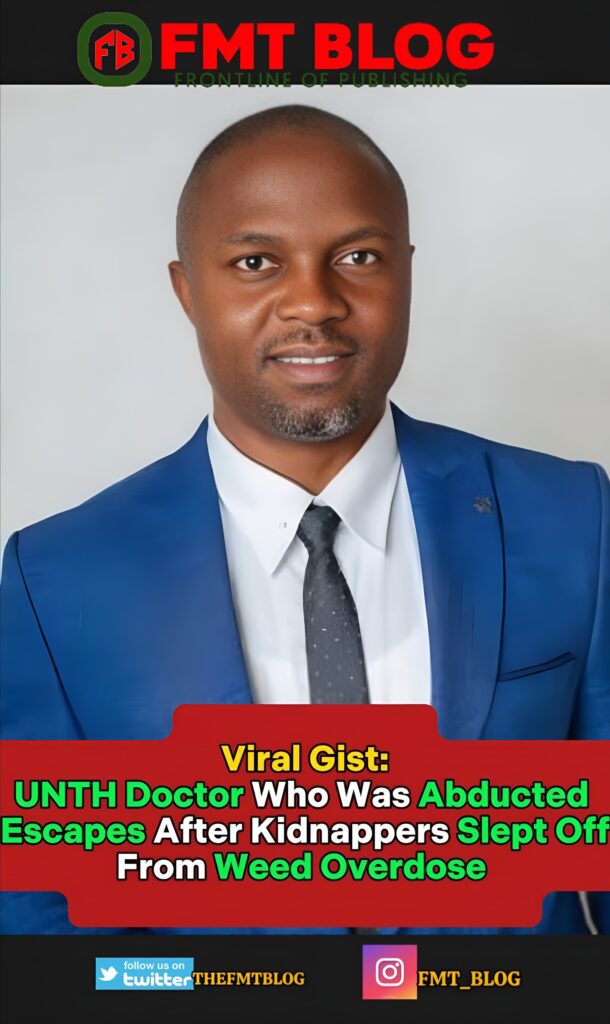 The incident occurred on Saturday night, November 4, 2023, while Dr. Orock was on call duty within the hospital premises.
Dr. Celestine Ugwoke, the Chairman of the Enugu State Chapter of the Nigeria Medical Association (NMA), confirmed this information to the News Agency of Nigeria on Monday, November 6.
According to Dr. Ugwoke, after Dr. Orock's wife offered to pay the ransom the kidnappers demanded. They decided to indulge themselves with substances of their choice, which caused them to fall into a deep slumber.
Taking advantage of the situation, the abducted doctor slowly crawled away from his captors' location and proceeded to trek and run a considerable distance.
Finally, he spotted signs of human activity and emerged from his ordeal. According to the chairman, the medical profession has become increasingly endangered in our state, with doctors being the prime targets of kidnappers, especially those working in tertiary health institutions.
This alarming situation has instilled fear within us, as these kidnappers relentlessly pursue us, as if we were rats. To address this escalating crisis, the chairman emphasized that any further abductions of doctors from the University of Nigeria Teaching Hospital (UNTH) would result in a complete work stoppage by doctors in the hospital.
Furthermore, this warning will extend to other tertiary hospitals across the state.In light of these grave circumstances, Mr. Ugwoke announced that the association would hold a meeting with the Chief Medical Director (CMD) of UNTH.
The primary aim of this meeting would be to mandate the development and implementation of comprehensive security protocols within the hospital.
These protocols are essential to ensuring the safety of all doctors, management staff, employees, and patients. The chairman's statements illustrate the magnitude of the challenges faced by doctors in our state, as kidnappings have placed their lives and the functioning of healthcare institutions in jeopardy.
It is crucial for immediate action to be taken to safeguard the well-being of medical professionals and everyone associated with healthcare delivery.
"We also want the hospital management to beef up security within the hospital, ensure adequate perimeter fencing of the entire hospital and installation of Close Circuit Television Camera (CCTV) and its monitoring base within the hospital.
"As an association, we have previously met the state's Commissioner for Health and the Commissioner of Police on the spate of insecurity our members face even in the discharge of their life-saving professional duties.
"All efforts through official letters and other means to pay a courtesy call on Gov. Peter Mbah and intimate him on the vital issue of doctors' security in the state had proved abortive.
"Maybe the government wants doctors to leave their duty posts and carry placards to the Enugu Government House before listening to us. This will be very bad, if allowed to drag to this point," he said.
I am very happy for the UNTH Doctor Who Was Abducted Escapes After Kidnappers Slept-Off From Weed Overdose
Drop comment below 👇
READ ALSO 👇