US Court gives Chicago State University 48 hours to release Tinubu's academic records to Atiku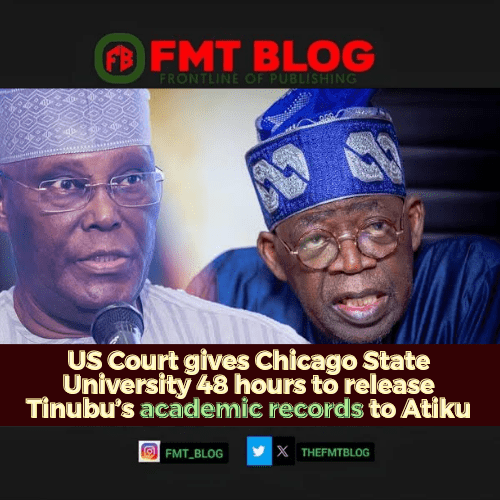 Judge Jeffrey Gilbert of the U.S. District Court, Northern District of Illinois, has instructed Chicago State University (CSU) to disclose Nigeria's President, Bola Ahmed Tinubu's academic records.
This decision was made by Magistrate Judge Gilbert on September 19th, mandating CSU to provide all relevant, non-privileged documents to the plaintiff, Abubakar Atiku, within two days.
Tinubu's legal team has argued against lifting their client's privacy privilege, which the ruling acknowledges by referencing "non-privileged documents." The university confirmed Tinubu's attendance and graduation in 1979 in its deposition before the court.
Also Read:- Why We're Yet To Exhume Mohbad's Body- Lagos State Police Command Finally Reveals
On the same day, Atiku sought relief from the Supreme Court to overturn the Presidential Election Petition Court's September 6th judgment affirming Tinubu's election.
Atiku's Notice of Appeal, consisting of 35 grounds, alleges that the tribunal, led by Justice Haruna Tsammani, made significant errors and miscarriages of justice in its findings and conclusions.
Atiku contends that the tribunal erred in not annulling the February 25th presidential election due to non-compliance with the Electoral Act of 2022, citing evidence of INEC conducting the election based on grave misrepresentation, contradicting the principles of the Electoral Act 2022 and the "doctrine of legitimate expectation."
Drop comment below 👇
READ ALSO 👇